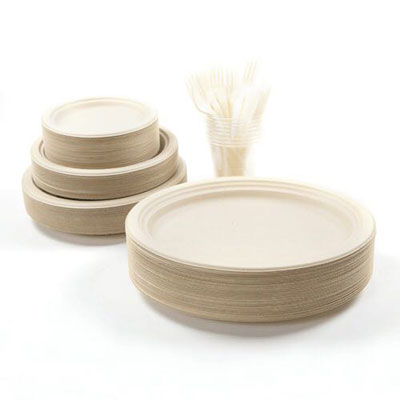 Gunjan International is located in Delhi and is engaged in manufacturing eco-friendly products for you. Bagasse pulp tableware products are the most common substitute for the wood in various countries. We understand that devastating the nature can destroy us someday so it is better to find an alternative that is nature friendly and result producing. With the valid reason and high demand we started the manufacturing of products as being the Bagasse Pulp Tableware Product manufacturers suppliers and exporters in the global market area.

The sugarcane waste is used and recycled to make the pulp which is finally converted into the hygienic tableware products. Bagasse Pulp Tableware Products are used widely for its eco-friendly nature and various other concerns. The elegant and classic round design plates are ideal for your parties and various gatherings.
Bagasse Pulp Tableware Products manufactuers suppliers and exporters are known in the world for drawing environmental concerns and manufacture a healthy alternative of wood tableware. Plastic, ceramics, wood and various other metal edible tableware products are devastating the nature to the extreme. Place your order as per your requirements through the phone call or send us an enquiry now. We also accept bulk orders with on-time delivery commitment.
Classic Features Of Bagasse Pulp Tableware Product:-
High in demand and simple in style
Tough material
Leak proof and safe
Ideal for hot serving food products
100% safe and eco-friendly